Floor Type Pressure Relief Valves
Performance Under Pressure
Located on the bottom of a tank, floor type pressure relief valves open up when excess groundwater is present to prevent floating, which can cause cracking and other serious issues.
Unique Features
1. Machined Seat
Our strong, flat surface lid with resilient to bronze seating outperforms typical rubber to rubber seals, which are very wide and difficult to seal properly.
2. Removable Grate
Designed for easy maintenance, the grate can be accessed simply by removing the lid and reaching in. No tools are required.
3. Extendable with PVC
With the ability to extend to match exact wall thickness, our valve eliminates the need for extra field work.
4. Rubber Gasket Bonded to Lid
Our gasket won't collapse under water pressure because it is bonded to the lid.
5. Integral Cast Water Stop
Because our water stop is integrated into the cast valve, we can help prevent water from leaking around the valve.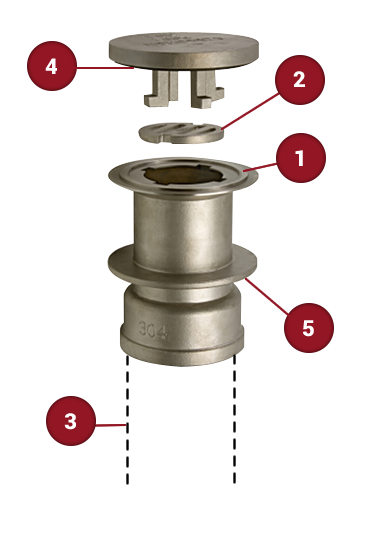 Materials
Cast Iron
Epoxy coating
Machined bronze seat
316 Stainless Steel
Machined stainless steel seat


Size Range: Even sizes 4" and 6"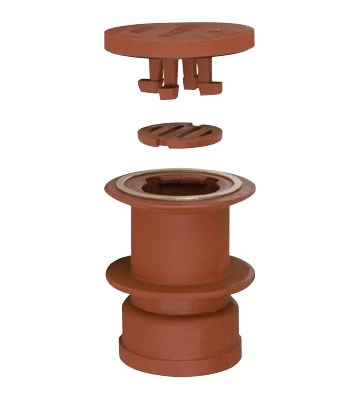 Operation
The valve opens as a result of hydrostatic pressure underneath the tank exceeding the inside pressure. The opening action allows water to flow into the tank thus equalizing pressure both inside and outside of the tank.


Maintenance
The valve requires no lubrication. There is no requirement for regular maintenance. Valve seats should be visually inspected for damage when the valve is accessible.


Installation
The water pressure relief valves are to be mounted vertically only. Care should be taken to prevent damage to the seats when placing in form and pouring concrete. Cover and grate should be installed in the body, turned a quarter turn, and tested to be sure cover and grate cannot lift off body.


Parts
Parts are available by request. Please contact us for more information.
Confidence
1,000+
Customers Worldwide
NSF61 & ISO Certified
`