Cast Iron Epoxy Coated Mud Valve
Tried & True Valve
Cast iron mud valves are used as drain valves in waterworks and wastewater treatment basins, irrigation, and fluid retaining basins. They are also used in many industrial applications including spill or overflow containment basins.
Why Troy Cast Iron Mud Valves?
1. Historically proven industry standard.
Cast iron is a tried-and-true material in the water treatment industry.
2. Resilient gasket to bronze seating comes standard.
The patented design forms a bubble-tight seal that won't leak, even when minor debris obstructs the valve.
3. TNEMEC epoxy coating is applied to all exposed surfaces.
Corrosion resistant and safe for potable water applications, our coating exceeds NSF-61 standards for superior protection.
4. Low torque stem exceeds AWWA specs.
Extra strong, our stems also make operation more efficient.
5. Plug body contains no through holes.
No holes means less opportunities for leaks.
6. A range of sizes are readily available.
From 3" - 30", we have the mud valves that meet your exact specifications.
7. Plug stem utilizes hydraulic relief slots.
This critical feature allows any sludge to drain out so your valve won't jam.
Size Range: 3" and even sizes 4"-30"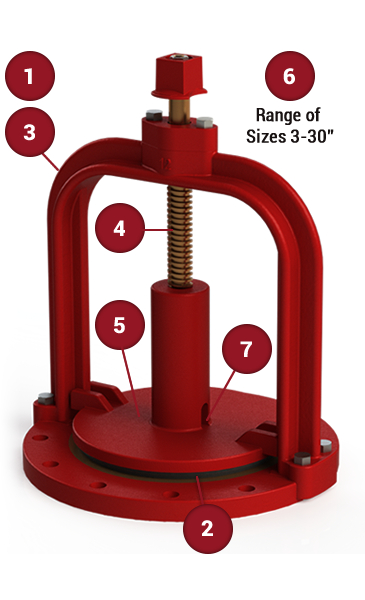 Typical Configurations
Find all the operator options there are for your mud valve application.

Download Configurations PDF
Find all the operator options and accessories you need for opening and closing your mud valve.
Seal Upgrades
+ Viton®
+ EPDM
Operation & Maintenance
Operation
The valve operating mechanism may be a 2" square nut, hand wheel, or floor stand connected to the mud valve, using an extension stem that is attached directly to the valve stem using a coupling.
To open the valve, rotate operating mechanism in a counter clockwise direction (open left).
To close the valve, rotate the operating mechanism in a clockwise direction (close right).
Maintenance
Epoxy Coating: The yoke, plug, and frame of the cast iron mud valves are preserved with a two-part epoxy coating that is NSF approved for both potable water and wastewater applications.
Lubrication: The valve is lubricated after it is manufactured with a white, food-grade grease. The stem and lifting nut in the plug should be lubricated with a comparable quality grease when the valve is accessible for general tank maintenance.
Installation
The valve should be mounted to a standard 125-lb. ANSI flange. The mud valve should be recessed so that the top of the valve flange is flush with the floor to allow complete drainage. The mounting surface must be flat and free of debris. Also, remove any scaling near the inside diameter of the drain line before the valve is installed.
*Precaution must be taken during installation to prevent damage to the machined bronze seat in the frame, particularly from heavy grit (concrete, etc.). Consider using a blind flange as a place holder for your mud valve while pouring concrete to avoid splatter on the mud valve.
Parts are available by request. Please contact us for more information.
Confidence
1,000+
Customers Worldwide
NSF61 & ISO Certified
`