Non-Rising Telescoping Valves
Fast-Acting, Space-Saving Operation
Non-rising telescoping valves (t-valves) are useful in applications with a low overhead clearance or the need for rapid actuation during siphoning or regulating fluid levels.
Screw-Type Model
1. Anti-Rotation Assembly
Unique to Penn-Troy, this feature is crucial to your t-valve. Anti-rotation reassures that your efforts aren't wasted with a slip tube that's just turning in place.
2. Rapid Travel
A custom quadruple lead ACME thread allows the valve 16 turns per foot of travel for quick operation.
3. Self-Locking Design
A safety advantage, the self-locking mechanism also ensures the valve holds its position over time.
4. Floor Stand Indication
Non-actuated models have the option of an easy-to-read, full indication in a compact footprint. Floor stands come completely assembled for easy installation.
5. All Stainless Steel Construction
All components are stainless steel for a corrosion-resistant, long-lasting design guaranteed against galling.
6. Preassembled Floor Stand
The floor stand comes completely assembled and set in closed position for easier installation. No installation is required for the internal components of the floor stand.
Size Range: Even sizes 4"-24"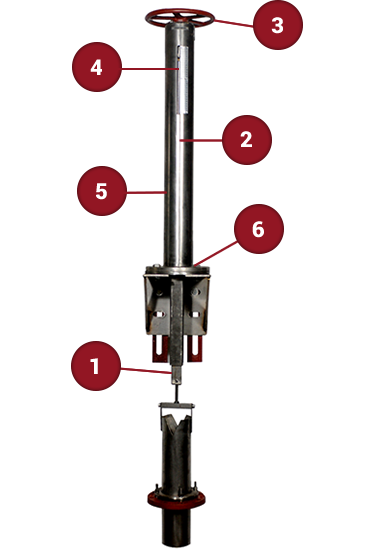 Confidence
1,000+
Customers Worldwide
NSF61 & ISO Certified
`
Decanting Valves
Non-rising telescoping valves are also known as decanting valves. In wastewater applications, a decanting valve is used to control flows of liquid and sludge during the decanting process.

Decanting is the process where settled solids are separated from the liquids, which allows for the removal of cleaner liquids. Remaining solids can be further treated or disposed of.

Decanting valves are typically installed at the bottom of sedimentation tanks.