Stainless Steel Mud Valves
No Breaking.
No Kidding.
Stainless steel mud valves are designed for heavy duty uses ranging from very corrosive environments to potable drinking water plants.
What Makes a Troy Mud Valve Unique?
1. Valves are 3rd party tested by an ACLASS accredited ISO certified lab.
The test results were so convincing, they surpassed even our expectations, and we are comfortable claiming that our valves outperform any on the market today.
2. All components are cast in 316 stainless steel.
The valve's construction has been proven to resist corrosion over long periods of time.
3. Stem is made of rolled ACME threads.
As opposed to cut threads, our rolled thread stems are harder and have reduced stress concentrations for better valve longevity.
4. Plug stem utilizes hydraulic relief slots.
This critical feature allows any sludge to drain out so your valve won't jam.
5. Plug body contains no through holes.
To put it simply, no holes means less opportunities for leaks.
6. Grout pocket enables tanks to empty completely.
Unique to our stainless steel design, the grout pocket allows grout to be flush with the drain hole, enabling tanks to empty completely. No other valve on the market has this feature!
Size Range: 3" and even sizes 4"-24"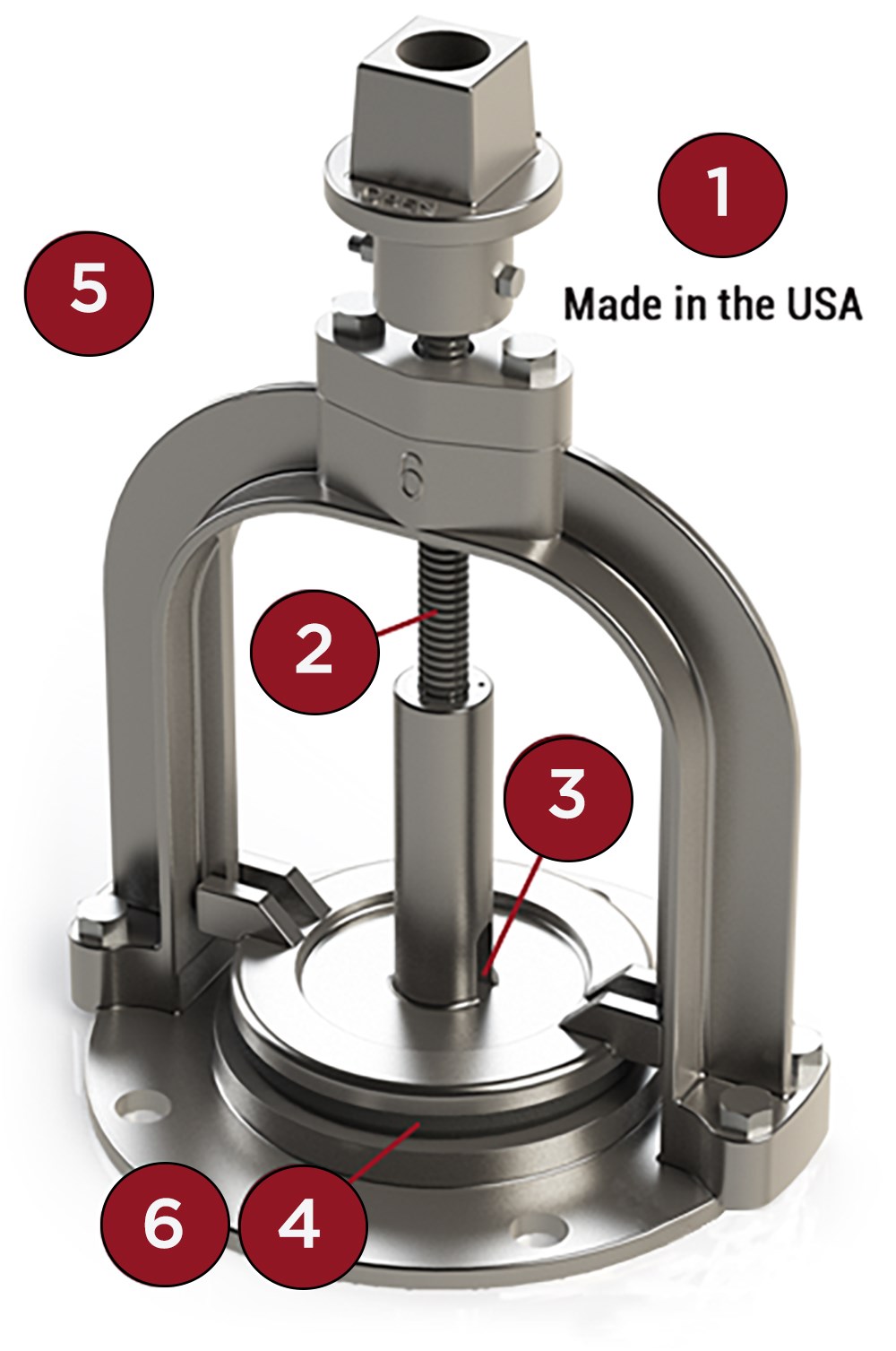 Typical Configurations
Find all the operator options there are for your mud valve application.
Find all the operator options and accessories you need for opening and closing your mud valve.

Learn More
Seal Upgrades
+ Viton®
+ EPDM
Operation & Maintenance
Operation
The valve operating mechanism may be a 2" square nut, hand wheel, or floor stand connected to the mud valve, using an extension stem that is attached directly to the valve stem using a coupling.
To open the valve, rotate operating mechanism in a counter clockwise direction (open left).
To close the valve, rotate the operating mechanism in a clockwise direction (close right).
Maintenance
The valve is lubricated after manufacturing with a white food-quality grease. The stem and lifting nut in the plug should be lubricated with a quality grease when the valve is accessible for general tank maintenance.
Installation
The valve should be mounted to a standard 125-lb. flange. The mud valve should be recessed so that the top of the valve flange is flush with the floor to allow complete drainage.
Parts
Parts are available by request. Please contact us for more information.
Confidence
1,000+
Customers Worldwide
NSF61 & ISO Certified
`