Refined Design from a Valve Expert
Telescoping valves are designed for use in tanks, lagoons, ponds, water containment structures and water & wastewater plants. Ideal for siphoning clean water from the surface of one tank or body into another, telescoping valves will not disturb the sediment that sinks to the bottom. Telescoping valves are also used to regulate fluid levels, either by draining one tank into another or filling an adjacent tank with a higher water level.
What Makes a Troy Mud Valve Unique?
1. Buna-N MJ Gasket
Unique gasket design allows simple, fast repair and maintenance without removing slip tube. Seals better than Teflon or Neoprene.
2. Safety-Lock
All of our t-valves are self-locking for safety and require no separate locking mechanism. This feature eliminates the possibility of the valve falling if you let go of the hand wheel and the danger of trying to grab the wheel while it is spinning so fast.
3. Corrosion Resistant Material
Comes with standard 304 stainless steel components and wetted moving parts and standard companion flange with cast iron TNEMEC epoxy coating. Upgrades to 316 stainless steel are available.
4. Range of Slip Tube Sizes
Slip tubes are available in all standard pipe sizes up to 30" to best fit your application.
5. Optional Lubrication System (Exclusive to Penn-Troy)
A slip tube lubrication system pumps grease to the slip tube to help keep the companion flange working when routinely exposed to atmosphere. It is also ideal for use in a dry application.
6. Variety of Optional Features
V-notches, scum baffles and weir cones are available, enabling better process control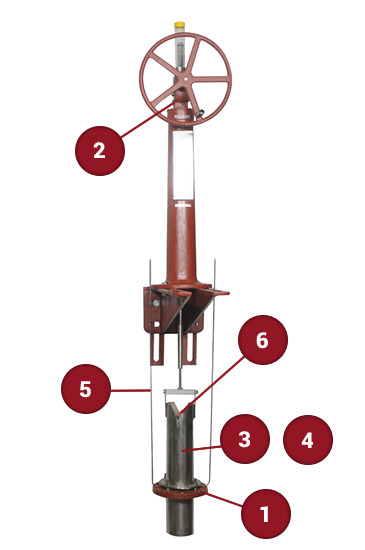 Your Custom T-Valve
Each one of our t-valves is custom manufactured to your specifications, because each application and installation environment can affect how your valve operates. In order to design your custom telescoping valve, you will be required to provide us with as much of the following information as possible at the time of your order:
Floor elevation position
High water elevation
Low water elevation
Flange elevation
Floor thickness
Floor type
Riser/stand pipe nominal size
Pipe material/material requirements
Space restrictions
Additional considerations that may affect the design of your custom t-valve include:

Need for the stand pipe to be 12" longer than the valve travel

If low water level is within close proximity to stand pipe flange. In this case, a V-Notch may be required or cones and baffles may not be able to be utilized or modified.
Larger valves, which have limited travel
Extra space needed for installation of stem guides, which must be placed so they do not interfere between high and low water
If your application will expose the stand pipe flange area to atmosphere. We offer a grease fitting option for dry applications.
Confidence
1,000+
Customers Worldwide
NSF61 & ISO Certified
`