Sluice Gate Valves
Sluice gates are true end of line valves, designed to hold back water with minimal leakage in applications ranging from drainage pipes to effluent ponds to distributor boxes.
Standard Features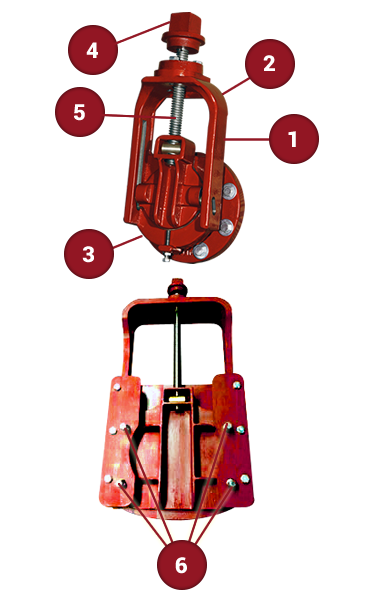 1. Cast Ductile Iron Design.
As opposed to fabricated parts, our cast parts have less potential for failure over time.
2. Self-Contained Assembly.
Our unique assembly doesn't require rails to guide the disc, allowing for easy installation.
3. High Unseating Pressure Tolerance.
With an unseating pressure rating of 50psi, our sluice gates perform better than the industry standard.
4. Extension Stem Operation.
Our sluice gates can be easily operated by using an extension stem with 2" nut and socket, floor stand or hand wheel.
5. Stainless Steel Stem.
Our sluice gates are constructed with a stainless steel stem to prevent corrosion and ensure smooth operation.
6. Ball Bearing Adjustment Screws.
For our larger models (12"), special ball bearing adjustment screws help to ensure a fully even positive seal.
Cast Stainless Steel Sluice Gates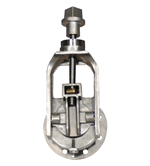 Penn-Troy currently offers 4" sluice gates with a cast stainless steel construction.
Sluice Gate Operators
Find all the operator options and accessories you need for opening and closing your sluice gate.
Operation
The sluice gate is a non-rising stem type. The gate is opened by rotating the operating mechanism in a counter clockwise (open left) direction. The gate is closed by rotating the operating mechanism in a clockwise direction.
The operation mechanism may be a 2" square nut attached directly to the operating stem of the valve, a 2" square nut attached to the valve operating stem by an extension stem and coupling, or hand wheel attached to the valve operating stem by an extension stem and coupling.
The disc seat is forced against the seat in the body by a wedging action. The wedging action is created by two (2) adjustable bronze wedges mounted on the gate disc and the cast iron guide mounted to the gate body. See Drawing A-3500, items (6) and (3).
Maintenance
Visual inspection of the bronze seats and wedges are recommended when the gate is accessible. Gate operation should be observed to ensure the gate is opening and closing evenly against the wedges. Adjust bronze wedges as necessary to correct wedging action. Lubricate stem and stem nut each time maintenance is performed.
Installation
The gate flange is drilled to the 125-lb. standard template for mounting on flanged pipe drilled and typed for studs. Flange holes straddle the vertical centerline.
Parts
Parts are available by request. Please contact us for more information.